3D laser scanning is a geospatial technology that uses LIDAR (light detection and ranging) to measure the geometry and location of physical locations. Each laser scan emits millions of measurement points, and collectively these points create a "point cloud" of raw geospatial coordinates. The precise detail of these points means that you can accurately measure the dimensions and location of physical objects and structures efficiently and accurately. The result is a highly accurate digitized replica – or digital twin – of your facility, building, or site.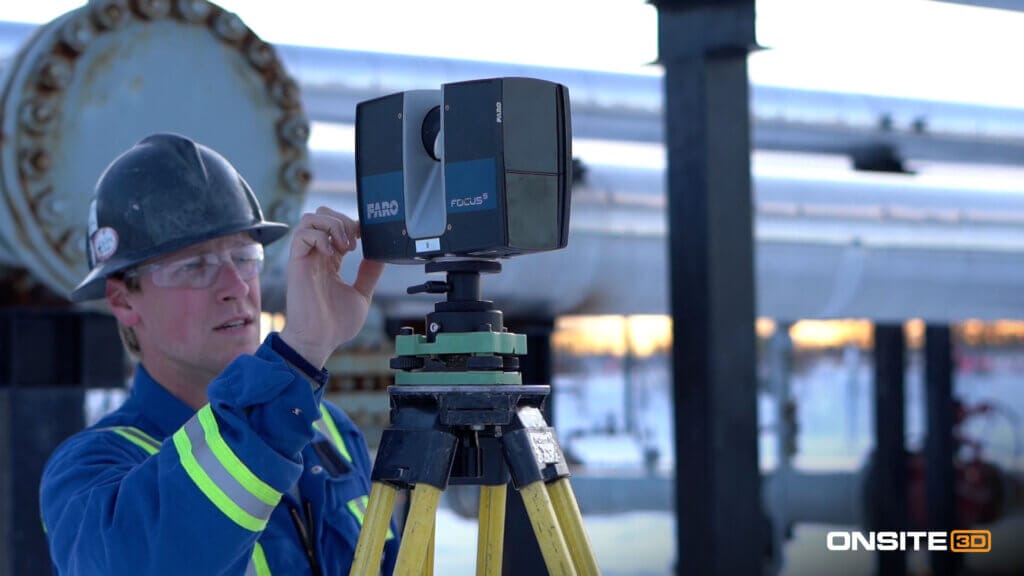 Internationally recognized for excellence in 3D laser scanning, ONSITE3D has collaborated with top-tier companies across Canada and the US. Our Calgary-based Data Lab is a hub of innovation, processing raw data with unbeatable speed and delivering unmatched quality.
Expertise – Our scanning technicians are the best at what they do, efficiently capturing your site using terrestrial LIDAR systems.
Speed – With one of North America's largest terrestrial scanner fleets, we ensure rapid capture without sacrificing detail.
Accuracy – Our scans boast an engineering-grade accuracy tolerance ranging between 1mm-3mm.
From Point Clouds to Profit
Increasingly, organizations realize the inefficiencies of outdated site models. The future? Point clouds and digital twins. Not only are they time-efficient but also offer applications like as-built packages, work pack creation, and design, ensuring immediate ROI. At ONSITE3D, we've refined 3D scanning processes, delivering data that integrates seamlessly into your digital framework.
Our Commitment to Service
Speed – Multi-person teams using multiple LIDAR units, capturing vast assets swiftly.
Versatility – From short to long-range laser scanning, photogrammetry to robotic total stations, we bring diverse tools to meet varied needs.
Data Security – Your data, processed in our state-of-the-art lab in Calgary, is delivered securely, adhering to your organization's protocols.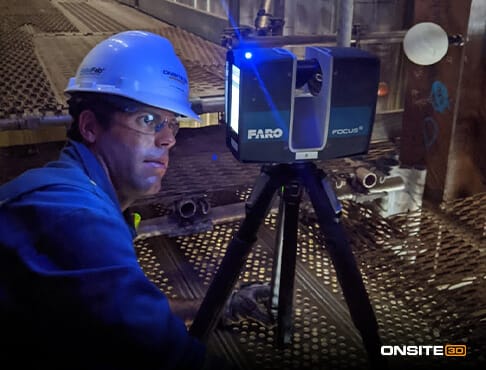 Our add-on solutions are designed to maximize the potential of your scanning data. From as-built packages and fabrication isometrics to equipment verification and 5D BIM simulations, we offer practical solutions that guarantee a measurable ROI.
Our unique offerings include:
3D Traceable Monument System: A proprietary solution that dramatically reduces the time and cost needed to update point cloud data post modifications.
Enterprise Programs: Tailored for organizations with expansive asset portfolios, ensuring cost-efficiency and optimal ROI.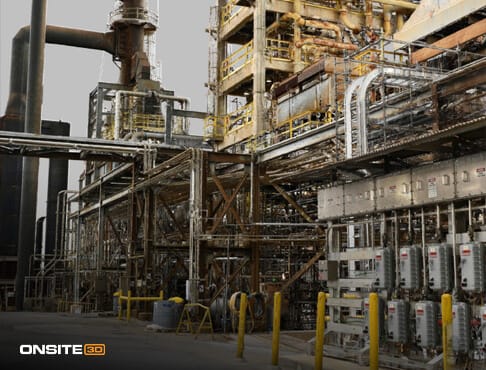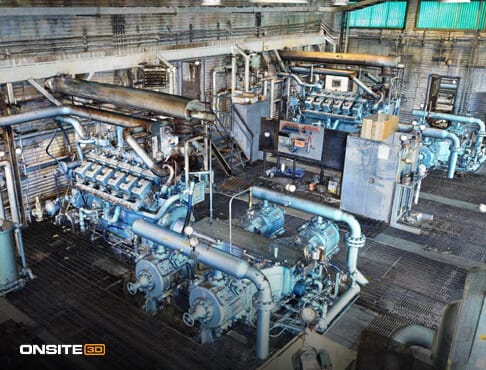 ONSITE3D envisions a world where 3D technologies are omnipresent, enhancing business sustainability, worker safety, and operational excellence. Our commitment? A potential $10 return for every $1 invested with us. With ONSITE3D, you're partnering with a team that embodies excellence and is committed to pushing the boundaries of what's possible.
Whether it's oil and gas sites, public facilities, or commercial buildings, our technologies and competencies span a broad spectrum. Robotic Total Stations, 3D Laser Scanners (both long and short range), and Mixed Reality Headsets are just a few tools we employ. With ONSITE3D, every project journey is simplified: our technicians capture your asset, process the scans into comprehensive 3D models, and grant you access to these point clouds via our user-friendly web portal.
A team of technicians captures your asset with 3D laser scanners
The scans are processed
into detailed 3D models
and drawings
You access your dimensionally accurate point cloud via web portal

• Long-range laser scanning
• Short-range laser scanning
• Photogrammetry
• Robotic total stations
• Rapid data processing
• Data management
• Web portal to access your point cloud

• Oil and gas facilities
• Pulp and paper mills
• Chemical plants
• Food production plants
• Storage facilities
• Power plants
• Mining facilities
• Heritage sites
• Civil infrastructure
• Public facilities
• Wastewater facilities
• Electrical facilities
• Commercial buildings
• Sport complexes

• Robotic Total Stations
• RTK (GPS) Rover and Base
• 3D Laser Scanners
(Long Range + Short Range)
• ATV / UTV / Snowmobiles
• Mobile 3D Scanning Units
• Survey / Scanning Trucks
• Mixed Reality Headsets